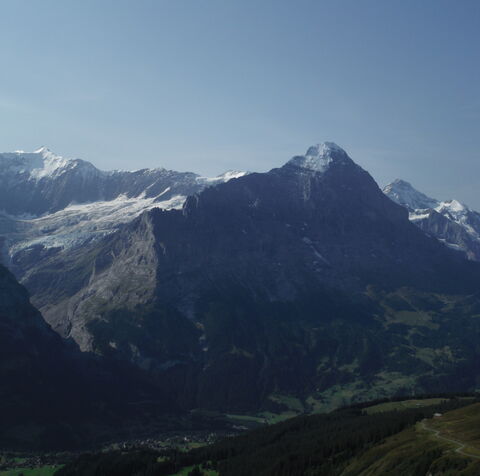 First Hike
Start in Grindelwald right by the train station and head up to Waldspitz. It will take you about 2 hours hiking up through forest and along beautiful tiny tracks that lead you straight up. After a good hike and about 900m altitude you reach the end of the forest and reappear to the bright sunlight. Soon after you take your well deserved brake on the beautiful sun terrace at the Waldspitz. This hut and restaurant serves what I know as the best "Kirsch" gateau ever. Don't try it if you are off alcohol. This is not for tea totals.
But of course none of their homemade offer has ever disappointed.

Having gathered your strength again, you continue your path through beautiful mountain medows, possibly crossing through peacefully grasing cattle.

Another hour or so and you reach the beautiful Bachalp See, or head straight up to First top, both offer the most amazing views.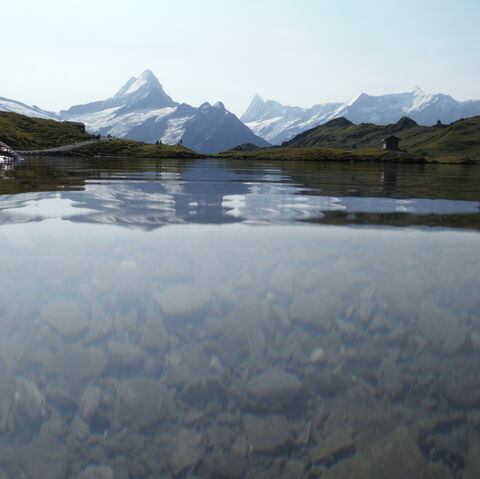 Walk the panoramic path First - Bachalpsee
Do like our team did this year: walk from First to Bachalpsee. Do not miss the amazing views of this panoramic trail and the beauty of the clear lake that can reflect the whole of the mountain range around it.

If you want to add a bit of adrenaline to your experience, you can enjoy the "fun package". It includes the first flyer for the top, then mountain cart and either you walk, take the cable car or a scooter for last really steep bit back into Grindelwald.